Masters Badge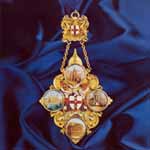 Organisation
Our administrative body is known as the
Court of Assistants,
and since 1942 our Headquarters has been in Tallow Chandlers' Hall, where we hold our regular Court meetings, AGM and Installation ceremony as well as a number of social events.
Our membership limit is set at 3500 and this makes us the largest organisation of its kind in the City of London.
We have close relationships with other Guilds and Livery Companies in the UK and North America, and with the Corporation of London. The Lord Mayor honours us as our Patron during his year in office.
We are a very active Guild, providing a programme of around 30
events
each year.
The responsibility for the administration and activities of the Guild rests with the Master and Wardens, who hold office for one year, and the Court of Assistants, which includes Past Masters, Court Assistants and Guild Assistants. The Court meets 5 times a year to manage the Guild's business and to admit and welcome new members.

The Guild is a Company Limited by guarantee without share capital, with Company Number 109150. Members of the Court who are below the age of 80 are Directors of the company. You can read our Articles of Association here.
Committees
The Court of Assistants has set up a number of Committees to attend to the detailed affairs of the Guild:
The Past Masters' Committee is responsible for defining the Guild's policies and for providing medium and long term strategic direction.
The Court Nominations' Committee reports to the Past Masters' Committee, the Board and the Finance and General Purposes Committee. It is responsible for recommending Guild members for election to serve on the Court, and Court members to fill the appointments of Master and Wardens. It is also responsible for making recommendations regarding the appointment of Guild employees.
The Finance & General Purposes Committee is responsible for the Guild's financial affairs.
The Membership Committee is responsible for the recruitment and retention of members.
The Investment Sub Committee is appointed by the Finance Committee to look after the Guild's investments and reserves.
The Editorial Committee is responsible for the publication of the Guild's annual journal 'The Freeman'.
The Advertising Committee is responsible for securing advertising to support the Guild's publications.
Drawing on the recommendations of the Past Masters' Committee, the Court of Assistants also appoints members of the Court to serve as Trustees to the Guild of Freemen of the City of London's Charity (formerly The Guild of Freemen Benevolent Fund) and to the British Humane Association.